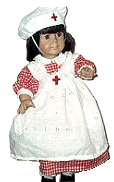 "Handmade by Grandma" Original Doll Dresses for 18" Dolls like the American Girl, and in a size that fits Bitty Baby. No one else will have a dress just like it because Grandma's doll dresses are handmade and one-of-a-kind!
18" Doll Clothes Fit the American Girl Doll Whether your child has an American Girl Doll or another standard-sized 18" doll, Grandma's doll clothes should fit just fine.
Lots to Choose From! Browse around, you'll see all kinds of doll outfits in different colors and styles. You'll find satin ball gowns, sporty gym outfits, nightgowns, costumes, coats, old-fashioned dresses, contemporary fashions, and more.
Bitty Baby Outfits are also available!
Made for Play These doll clothes are made with children in mind. They're beautiful, but they're not show pieces.
All doll outfits are made of 1 or 2-piece construction so there are no extra pieces to get lost under the bed. The outfits open in the back with sturdy velcro closure. All headwear has elastic bands so the doll won't lose her hat if she is taken outside.
The doll clothes are easy for small fingers to open and close, and they're easy to get on and off. Play is what's fun, not struggling to get the doll dressed.
These outfits are sturdy and easy enough to be enjoyed by a child as young as five years old.
"One of a Kind" Is Not a Sales Gimmick! This is not a high-pressure sales technique! It's just that Grandma only makes one of each outfit. She loves designing and creating outfits, but doesn't like to do the same thing over and over again.
So, if you love a dress, please order it. We don't want you to be disappointed. (We update the site frequently, but orders come in frequently, too. We sell each outfit to the first person who orders it. If the dress you've ordered has been sold, we'll let you know by email.)
On the bright side, if you love a dress that 's been sold, email Grandma and tell her what you loved. She may be able to whip up something similar.
Free Shipping Grandma offers free shipping. She only ships to addresses in the United States.
Who Is Grandma? Grandma is a real person, not a company. Her name is Terry Charlton and she lives in Boonton, New Jersey. Grandma's dresses could be priced higher, but she truly does this for love - and you'll see what I mean if you become her customer.
(I'm her grown daughter, and I made her this web site. I grew up with the most beautifully dressed dolls! I have so many happy memories of hours spent playing with them, and I hope your child has the same.)
Grandma Wants Only Happy Customers!
All dresses are guaranteed. If you don't love the dresses you've purchased online, just return them within 30 days for a full refund.